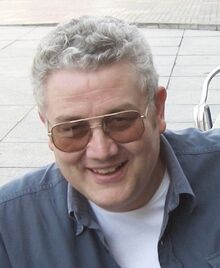 Alan Davis
Writer/Artist, X-Men, ClanDestine, Avengers Prime
Alan is one of the Special Guests at Comic-Con 2011.
Born June 1956 in the UK, Alan Davis began his career in comics by drawing Captain Britain for Marvel UK in 1981. Soon after came "Marvelman" for Warrior and "Harry Twenty on the High Rock," then "DR & Quinch" for 2000AD. His first published U.S. work was on Batman and the Outsiders (1985), followed by a short run on Detective Comics before moving over to Marvel Comics and co-creating Excalibur with Chris Claremont.
His first published writing (in partnership with Paul Neary) was on Wolverine: Bloodlust in 1990, followed by a two-year return to Excalibur as writer/penciller and Marvel UK to create ClanDestine. Other work includes DC's JLA: The Nail (1997), Superboy's Legion (2001), Killraven (2002), JLA: Another Nail (2003), runs on both X-Men and Uncanny X-Men as both plotter and artist, Fantastic Four: The End (2007), ClanDestine (2008), and Avengers Prime (2010). Davis is currently writing and drawing three linked annuals for Marvel that will be published in 2011.