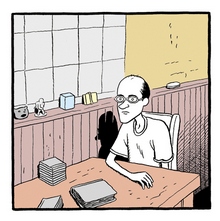 Chester Brown
Writer/Artist, Yummy Fur, Louis Riel, Paying for It
Chester Brown is a Special Guest at Comic-Con 2011.
Chester Brown was born in Montreal in 1960 and grew up in the nearby suburb of Chateauquay. His career path was set at age 12 when the local newspaper, The St. Lawrence Sun, published one of his comic strips. At age 19, Brown moved to Toronto and got a day job while working on his cartooning skills at night and on weekends. In 1983 he began to self-publish minicomics under the title Yummy Fur. In 1986, Vortex Comics took over the publishing, and their first issue sold well enough that Brown quit his day job and began working full-time as a cartoonist. In the pages of Yummy Fur, Brown serialized a bleakly humorous story called Ed the Happy Clown, which was published as a cult-classic graphic novel in 1989 and went on to win several awards. Since 1991, Brown's work has been published by Drawn & Quarterly; his The Playboy was the first graphic novel the company ever published. Subsequent works have included the complex adolescent memoir I Never Liked You and Louis Riel: A Comic Strip Biography, which won two Harvey Awards and was nominated for Eisner, Ignatz, and Libris Awards. Brown's next graphic novel is the memoir Paying for It, slated for publication by Drawn & Quarterly in Spring 2011.