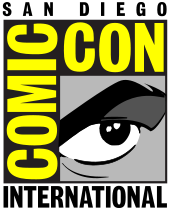 Comic-Con International returns to the San Diego Convention Center in 2013, beginning with Preview Night on Wednesday, July 17, with the four days of the event running Thursday, July 18 through Sunday, July 21. 2013 marks the 44th year for the show, making it the country's longest continuously-run comics and popular art convention.
Guests
[
]
Guests at Comic-Con 2013 will include artists, authors, and cartoonists, such as:
Sergio Aragonés (Cartoonist, Groo, MAD, Sergio Aragonés Funnies)
Tom Batiuk (Cartoonist, Funky Winkerbean, Crankshaft)
Jon Bogdanove (Artist, Superman: Man of Steel)
Vera Brosgol (Writer/artist, Anya's Ghost, Flight)
Jeffrey Brown (Cartoonist, Darth Vader and Son)
Frank Brunner (Artist, Dr. Strange, Howard the Duck)
Gerry Conway (Writer, Amazing Spider-Man, Superman vs. the Amazing Spider-Man)
Jeromy Cox (Writer/artist/colorist)
Gene Deitch (Artist/animator/director, Tom Terrific!, Nudnik)
Jose Delbo (Artist, Superman, Wonder Woman)
Paul Dini (Writer/producer, Batman: The Animated Series)
Mark Evanier (Writer, producer, comics historian)
Christine Feehan (Author, Dark Prince, Dark Hunger)
Gary Frank (Artist, Superman: Secret Origin, Batman Earth One)
Tom Gauld (Illustrator/cartoonist, Goliath, You're All Just Jealous of My Jetpack)
Faith Erin Hicks (Writer/artist, Friends With Boys, The Adventures of Superhero Girl)
Tony Isabella (Creator/writer, Black Lightning; writer, Champions, Daredevil, Hawkman)
Dan Jurgens (Writer/artist, Firestorm)
Richard Kadrey (Writer, Sandman Slim series)
Jim Lee (Artist, Justice League, Batman: Hush; DC Entertainment co-publisher)
Paul Levitz (Writer/editor/publisher, Legion of Super-Heroes, 75 Years of DC Comics)
Todd Lockwood (Illustrator)
Elliot S! Maggin (Writer, Superman)
Leonard Maltin (Author, TV host, Leonard Maltin's Movie Guide)
Val Mayerik (Artist, Man-Thing, Howard the Duck)
Terry Moore (Writer/artist, Strangers in Paradise, Echo, Rachel Rising)
Dean Mullaney (Creative director, The Library of American Comics)
Ted Naifeh (Writer/artist, Courtney Crumrin, Polly and the Pirates)
Mike Norton (Writer/artist, Battlepug, Artist, It Girl)
Jerry Ordway (Artist, Adventures of Superman, All Star Squadron)
Dan Parent Writer/artist, Archie Comics)
Martin Pasko (Writer, Superman, Dr. Fate)
Lincoln Peirce (Cartoonist, Big Nate)
George Pérez (Writer/artist, Wonder Woman, New Teen Titans, JLA/Avengers)
John Romita Jr. (Artist, Captain America, Kick-Ass, Hit Girl)
Chris Samnee (Artist, Daredevil, Captain America)
Ruth Sanderson (Illustrator)
Louise Simonson (Writer/editor, Superman: Man of Steel, Power Pack)
Nick Spencer (Writer, Morning Glories, Secret Avengers)
J. Michael Straczynski (Writer, Superman: Earth One, Before Watchmen)
Duane Swierczynski (Writer, Godzilla, Birds of Prey, Bloodshot)
Romeo Tanghal Sr. (Inker, New Teen Titans)
Roy Thomas (Writer/editor, Conan, Avengers, Alter Ego)
Bruce Timm (Artist/animator/producer, Batman: The Animated Series)
About Comic-Con
[
]
San Diego Comic-Con International, also known as Comic-Con International: San Diego, San Diego Comic-Con,"SDCC", or just Comic-Con, was founded as the Golden State Comic Book Convention and later the San Diego Comic Book Convention in 1970 by a group of San Diegans, which included Shel Dorf, Richard Alf, Ken Krueger and Mike Towry. It is traditionally a four-day event (Thursday through Sunday — though a three-hour preview night on Wednesday is open to professionals, exhibitors, and some guests pre-registered for all four days) held during the summer in San Diego, California, United States, at the San Diego Convention Center. Comic-Con is both the name of the annual event and the common name of the organization.
Originally showcasing comic books, science fiction/fantasy and film/television (as was evident by the three circled figures appearing in Comic-Con's original logo), and related popular arts, the convention has expanded over the years to include a larger range of pop culture elements, such as horror, animation, anime, manga, toys, collectible card games, video games, webcomics, and fantasy novels. The convention is the largest in the Americas, and fourth largest in the world after the Comiket in Japan, the Angoulême International Comics Festival in France, and the Lucca Comics and Games in Italy, filling to capacity the San Diego Convention Center with over 130,000 attendees in 2010.
Comic-Con International also produces two other conventions, Wonder-Con and the Alternative Press Expo (APE).
Transportation
[
]
CCI Shuttle Service: http://www.comic-con.org/cci/shuttles

SDMTS Trolley: http://www.sdmts.com/Trolley/ComicCon.asp
Room And Line Maps/Information
[
]
Lyceum Theatre: A new off-site venue with ticketed panels.Drawings for panel entry tickets at the Lyceum Theatre will be held at 9:00 AM in the Autograph Area (upstairs in the Sails Pavilion) on Friday and Saturday morning.
Comic-Con Maps: Please look over the maps to see where lines form for each room. The maps show the flow of traffic as well including where you enter and exit a room.
Event Schedule
[
]
Wednesday Preview Night Screenings
[
]
6:00PM–10:00PM Ballroom 20

Almost Human: In the near future, technology and crime will increase so quickly that law enforcement will not be able to keep up. To maintain order and keep the public safe, all police officers must partner with highly evolved human-like-androids known as synthetics. From J.J. Abrams' Bad Robot Production and Fringe executive producer J.H. Wyman, Almost Human is the story of Detective John Kennex (Karl Urban – Star Trek), and his lifelike android partner Dorian (Michael Ealy – Underworld Awakening).
The Originals: From executive producer Julie Plec comes The Originals, a spinoff of The CW's #1 series among Adults 18–34 and Comic-Con fan-favorite The Vampire Diaries. The sexy new drama centers on the Original Family, as Klaus (Joseph Morgan) returns to the supernatural melting pot that is the French Quarter of New Orleans.
The Tomorrow People: From executive producers Greg Berlanti (Arrow), Julie Plec (The Vampire Diaries), Phil Klemmer (Chuck) and Danny Cannon (Nikita), The Tomorrow People is a story of several young people from around the world who represent the next stage in human evolution, possessing special powers, including the ability to teleport and communicate with each other telepathically. This is a remake of a show from the late 80's 
The 100: 97 years ago, Earth was devastated by a nuclear apocalypse, and mankind was nearly destroyed. The only survivors were the inhabitants of 12 international space stations that were in orbit at the time. The stations came together to form the Ark, but with resources dwindling and population growth soaring, the decision is made to send The 100, a group of juvenile delinquents, to the surface to test whether Earth is once again habitable.
Thursday
[
]
Full Schedule [1]
Friday
[
]
Saturday
[
]
Sunday
[
]
Anime Schedule
[
]
Comic-Con Badges
[
]
Badges go on sale Feb. 16th, 2013 at 9am PT (Pacific Time). For more information and details regarding eligibility for badges, as well as ticket prices and a cheat sheet for getting your badges, be sure to check out this info page at the official comic-con website.
Awards
[
]
Since 1974, Comic-Con has bestowed its annual Inkpot Award to guests and persons of interest in the industries of popular arts as well as to members of Comic-Con's Board of Directors and convention committee. It is also the home of the Will Eisner Awards.
The 25th annual Will Eisner Comic Industry Awards ceremony will be held Friday, July 19 in the Indigo Ballroom at the Hilton San Diego Bayfront. The Eisner Awards, considered the "Oscars" of the comic book industry, will be given out in 30 categories, for works published in 2012. The doors for the event will open at 7:45, and the ceremonies will get under way at 8:00. Attendance at the event is free to anyone with a Comic-Con badge. Advance seating for VIPs (nominees, sponsors, presenters) and those with pro badges will begin at 7:00. The ceremony is expected to run until about 10:30. All who attend the awards ceremony will receive a graphic novel from the Will Eisner Library, published by DC Comics. http://www.comic-con.org/awards/eisners-current-info
Exclusives
[
]
This year's listing features over 250 individual products from 57 companies, as of 6/27/13. And we will continue to add to this list as we get closer to Comic-Con!
http://www.comic-con.org/cci/2013/exclusives
Here's a look at this years official Comic-Con t-shirts. This year you can pre-order your shirt via the CCI website. You MUST be attending in order to take advantage. The shirt will NOT be mailed out.
Features
[
]
Off-Site Events
[
]
Anyone who has been to Comic-Con lately knows that the expo is too big to be contained within the convention center these days, so companies have started looking outside renting parking lots, empty retail space, and even a baseball stadium to house their promotional campaigns. Unless otherwise noted a Comic-Con pass is not required for many of these areas since they are not technically a part of the convention.

History Channel's Vikings - A "Vikings Interactive Waterway" offsite event will be set up across from the Convention Center which will allow attendees to race miniature Vikings ships on water, a Photo Op area for keepsakes, and "Lagertha"-inspired shield maidens who will greet visitors.
The Waterway will be open Thursday July 18 through Saturday July 20 from 11AM – 8PM. There will be a Vikings cast appearance at the offsite on Friday July 19 from 11AM-12PM.
Ender's Game - Attendees will be able to visit an elaborate, specially constructed ENDER'S GAME exhibit outside of the Hilton Gaslamp, featuring 8 unique rooms representing the most iconic environments of Ender's world, complete with original film props and set pieces used in the movie. Throughout the experience, attendees will be able to see exclusive film footage on LED screens, interact with new digital content, integrate photos of themselves into the highly anticipated Battle Room, and register to win a home make over.
Adult Swim - The Adult Swim Funhouse will be making its official grand opening at San Diego Comic-Con, to the delight and confusion of attendees. The magic castle will be erected across from the convention center, in the Petco Park parking lot just over the footbridge.
Fans will have a chance to enter the world of Adult Swim and get lost within the 10+ rooms. The multiple paths and room challenges will force guests to crawl, dance, and sing their way to get to the end. Those fans who survive and emerge from the Adult Swim Funhouse will receive free custom live screen printed t-shirts.
Free for fans, tickets will be distributed at the Funhouse each day starting at 4:00 p.m. and will be open Thursday, July 18 – Saturday, July 20 from 5:00 p.m. – 10:00 p.m. each night.
MTV2 Party in the Park - Open to all Comic-Con badge holders, the July 18 event at Petco Park celebrating the die-hard fans in attendance at Comic-Con will feature live music performances, free food and drinks and the taping of "Guy Code Honors," a one-hour special starring the casts of "Teen Wolf" and MTV2's "Guy Code" that premieres Sunday, July 21 at 8:00 p.m. ET/PT on MTV and MTV2.
"You're Next" Screening - Wednesday, July 17. The screening is at the Reading Cinemas Gaslamp at 9pm and will be followed with a Q&A with director Adam Wingard, Simon Barrett and Sharni Vinson. Go here for a chance to get tickets to the screening 
http://www.shocktillyoudrop.com/news/174713-comic-con-2013-masters-of-the-web-horror-edition-panel-set-hosted-by-youre-next-team-see-the-film-for-free
Psych: The Musical Screening- Wednesday starting at 10:30PM leading into a Midnight screening of "Psych: The Musical." The event takes place at Reading Cinemas Gaslamp. A RSVP is needed which can be here: http://www.usanetwork.com/content/psych-the-musical
GameSpot Base Station- Visit The Base Station at Comic-Con 2013 for more fans and more fun! GameSpot knows a hero's work is never done, but that doesn't mean you can't take a break. A place to grab some fre grub, charge your electronics and more. You can RSVP here: http://gamespotbasestation2013-es2.eventbrite.com/?rank=657#
Comic-Con Blood Drive -  The Blood Drive is open from 9:00 am–6:00 PM Thursday, Friday, and Saturday, and 10:00 AM–3:30 PM on Sunday. The Blood Drive is located inside the Omni Hotel, in the OMNI BALLROOM CDE (on the 4th floor) across the street from the Convention Center at the Fifth Avenue door. If you're registering onsite at Comic-Con, please go to the Blood Drive booth near the Freebie Table in the Sails Pavilion, upstairs at the Convention Center.
More info can be found here: https://www.mysdbb.org/ and here: http://www.comic-con.org/cci/blood-drive
Zombie Walk: San Diego- Saturday, July 20 at 6:30PM. The walk will kick off from Children's Park. More info can be found on the official website: http://www.sdzombiewalk.com/
The Walking Dead Escape- July 19 & 20. 5PM-10PM. The event returns for it's second year! Watch out as Walkers take over Petco Park. You must register for this event and it does have fees.  http://www.thewalkingdeadescape.com/sandiego.html
Assassin's Creed IV Black Flag's Jackdaw-   The ship will be open on July 19 and 20th from 10:00 a.m.-7:00 p.m. at 5th Avenue Landing behind the convention center. For the first time, Assassin's Creed fans and aspiring pirates will immerse themselves in the world of Assassin's Creed IV Black Flag aboard the real-life Jackdaw ship, featuring three expansive levels to explore, as well as stunning views of the Pacific Ocean.
While aboard the ship, fans can view the new single player gameplay demo, with an insider's perspective from the development team and play the acclaimed multiplayer mode, including customized game modes created through the new  Game Lab feature.
Xbox Gaming Lounge: Manchester Grand Hyatt
Nerd HQ-  Nerd HQ will returning to San Diego July 18–21 in a new location, Petco Park (100 Park Blvd, San Diego, CA 92101), home of the San Diego Padres. If you aren't familiar with Nerd HQ they host parties, panels, gaming, and more during Comic-Con. For more information be sure to check out their website: http://www.thenerdmachine.com/nerd-hq/
Nerdist Live-  Saturday July 20 at 9PM, Guests include Matt Smith! Get ticktes here. This event takes place at Balboa Theater.
Hop-Con: The w00tstout Launch Festival- In one of Stone's geekiest accomplishments, CEO & Co-founder Greg Koch reached out to Wil Wheaton of Star Trek and Stand By Me fame to brew a beer with us, along with Drew Curtis, creator of fark.com. Drew Curtis/Wil Wheaton/Greg Koch Stone Farking Wheaton w00tstout is a delicious amalgamation of wheat, rye, pecans, and dark-roasted malts. Tickets can be purchased here.
WeLoveFine Pop Up Shop- @ the HILTON SAN DIEGO / GASLAMP 401 K Street San Diego CA 92101 Thursday through Sunday, July 18–21
The Amazing Spider-Man 2 Meetup - Tickets Here Friday, July 19 6:00-8:30PM
LAWN OF THE CON- http://whennerdsattack.com/?p=17669 Thursday July 18- Sunday July 21, 2013.