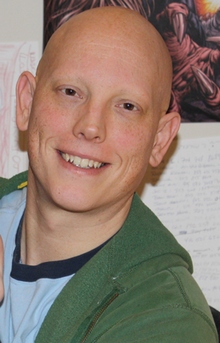 David Finch
Artist, Ultimate X-Men, New Avengers, Batman: Dark Knight
David Finch, one of the Special Guests at Comic-Con 2011, began his comic book career at the age of 22 at Top Cow Productions, where he created Ascension and Aphrodite IX, both of which were top sellers in the business, with Aphrodite IX debuting as the number one comic book in the industry.
In 2001 David made the move to Marvel Comics. His 15-issue run on Ultimate X-Men was an overnight success, and the book went on to remain a top 3 title for the course of his run. With a move to Avengers, David's presence once again had an instant impact, doubling sales with the first issue. This book went on to be relaunched as The New Avengers and remained the number-one title during the course of David's run. He next took on the art chores of the low-selling Moon Knight, which soon became a top 5 book. David then turned his attention to working with Jeph Loeb on Marvel's smash hit Ultimatum. In 2010 David made the transition from Marvel to DC Comics and the Warner Brothers banner. His artwork was featured on the covers of Brightest Day and Action Comics, and his collaboration with Grant Morrison on Batman: The Return was what Batman fans had been waiting to see.
2010 also saw the launch of Batman: Dark Knight, which he is writing as well as pencilling.
David Finch started his career with a lengthy stint on Top Cow Productions' Cyberforce, after series creator and studio founder Marc Silvestri ceased his run as writer/artist on that book.
Finch went on to co-create Ascension with Matt "Batt" Banning. He would later work on the first three issues of Aphrodite IX with David Wohl.
In 2003, Finch returned to comics for a year-long arc on Ultimate X-Men with writer Brian Michael Bendis. Following that stint, the duo moved on to Avengers, where they destroyed Marvel's premiere superhero team only to relaunch it as The New Avengers featuring a radically different cast.
Finch has also worked on the revamped Moon Knight series together with novelist Charlie Huston. After leaving the series, he illustrated Fallen Son: The Death of Captain America #4, featuring Spider-Man. This was followed by the crossover event "Ultimatum" for the Ultimate Marvel Line. In addition to comic interior work, he has drawn several covers, including those of World War Hulk, X-Men #200 and the X-Men: Messiah Complex crossover and the cover art for the X-Infernus miniseries.
In addition, outside of comics, Finch has worked on the band Disturbed's recent album's cover, Indestructible, as well as doing concept design for the film adaptation of Alan Moore´s Watchmen.
In 2009, Finch was awarded the Joe Shuster Award for Outstanding Artist.
It was announced in January, 2010 that Finch had left Marvel and would become a DC exclusive artist. In July, 2010 DC announced that Finch would be writing and drawing a new ongoing series entitled Batman: The Dark Knight, the first story arc of which deals with the detective's more supernatural cases
Bibliography
Edit
Comics work (interior pencil art) includes: