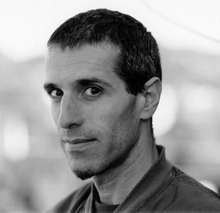 Eric Drooker
Painter, Graphic Novelist, Flood, Blood Song, Howl
Eric Drooker, one of the Special Guests at Comic-Con 2011, is a painter and graphic novelist, born and raised on Manhattan Island. He's the award-winning author of Flood! A Novel in Pictures, and Blood Song: A Silent Ballad. He designed the animation for the recent film Howl, a movie based on the epic poem by Allen Ginsberg, who collaborated with Drooker on the book Illuminated Poems, and the new Howl: A Graphic Novel. His paintings appear often on covers of The New Yorker and hang in numerous collections.
He regularly draws from the figure and is working on a series of nude paintings for an upcoming book.
External Links
Edit