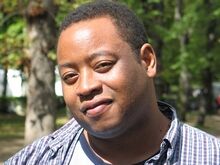 Jamal Igle
Artist, Supergirl, Tangent: Superman's Reign
Jamal Yaseem Igle is one of the Special Guests at Comic-Con 2011.
Starting at the tender age of 17, Jamal has worked his way up the ranks of the comics industry. He turned a six-month high school internship at DC Comics into a successful 18-year penciling career. He's done just about everything from acting on the small screen to voiceovers for commercials, packaging children's books, and drawing storyboards artist for Sony Animation. Currently Jamal is an exclusive artist for DC Comics.
He is married to his brilliant and much smarter wife Karine and father to way too smart for her own good daughter, Catherine.