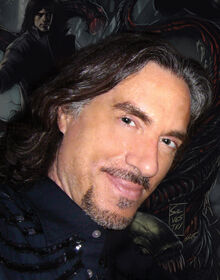 Marc Silvestri
Writer/artist, Image Comics co-founder, Witchblade, The Darkness, Incredible Hulk
Marc Silvestri founded Top Cow in 1992 after leaving a lucrative career at Marvel. His mandate for Top Cow was specific: create the next generation of heroes and do it better than everyone else. Marc built Top Cow into an artist boutique that created iconic characters and properties such as Witchblade, Wanted, and The Darkness. Marc helped position Top Cow as a vital production company in film and television as well as acting as producer on the Witchblade TV and anime series, the Wanted and A-Team feature films, and both of The Darkness video games. Marc continues to be active as a comic artist as well, most recently in Artifacts, Image United, and the Incredible Hulk.[1]
For more information about Marc Silvestri, visit Wikia's Image Database.
References
[
]