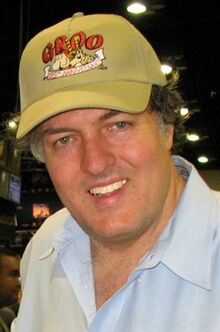 Mark Evanier
Writer, Comics Historian, Kirby: King of Comics
Mark Evanier, one of the Special Guests at Comic-Con 2011, has been writing professionally since 1969, when he apprenticed with the legendary Jack Kirby and also began writing comic book scripts for Disney.
Over the years he has worked on preexisting characters including Superman, Blackhawk, The New Gods, Tarzan, Mickey Mouse, Bugs Bunny, Yogi Bear, and dozens of others. He's also handled his own co-creations, The DNAgents, Crossfire, Boogeyman, Hollywood Superstars, and The Mighty Magnor, along with collaborating since 1983 with cartoonist Sergio Aragonés on Groo the Wanderer, for which he won a couple of the industry's coveted Eisner Awards. He is the author of several collections of columns he has written as well as MAD Art, a history of MAD magazine and Kirby, King of Comics, a book about his mentor that won both two prestigious Harvey Awards and one more Eisner. He has received three Emmy nominations (no wins) and an award from the Writers Guild of America for lifetime achievement in animation writing.
Mark is currently writing two screenplays for a major studio and writing, producing, and voice-directing the third season of The Garfield Show, which is seen in more than 150 countries.