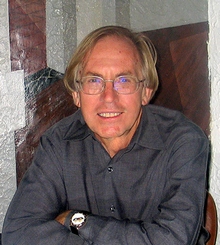 Roy Thomas
Writer, Editor, Alter Ego
Roy Thomas helped Jerry G. Bails found Alter Ego, the first real comic book fanzine. From 1965 to 1980 he wrote and edited for Stan Lee at Marvel Comics (X-Men, Avengers, Invaders, Conan the Barbarian, Red Sonja et al.) and served as editor-in-chief from 1972 to 1974.
In 1976 he moved to Los Angeles, where in 1981 he married Danette Couto, now Dann Thomas. From 1980 to 1986 Roy wrote for DC Comics, mostly titles he co-created such as All-Star Squadron and Infinity, Inc. In 1999 Roy revived Alter Ego for TwoMorrows Publishing; its 100th issue appears in March 2011. In 2006 Alter Ego won the Eisner award for best comics-related periodical. Roy has edited All-Star Companion (four volumes) and written several mainstream hardcovers on comics. Roy's current projects include writing the 12-issue Conan: Road of Kings for Dark Horse, editing Alter Ego, and working with Stan Lee on the Spider-Man newspaper comic strip.
He and Dann currently live in South Carolina.