Toy Exclusives are a major element of Comic-Con. The annual event always features rare vintage toys and exclusive new releases for which people are willing to pay a lot of money to get their hands on. Comic-Con 2012 is no exception. You can only buy these toys at Comic-Con 2012, or probably on eBay several days later at much higher prices.
Hasbro - Booth #3329
Star Wars Vintage Special Edition Carbonite Chamber Collector's Pack
Approximate Retail Price: $69.99; Ages 4 & up; Available through HasbroToyShop.com Booth #3329
Pretend to visit an alternate reality with this incredible package of seven 3.75-inch STAR WARS figures—one figure from each film in the Saga, and one figure only available in this collectible set. Each figure is individually carded with packaging that pays tribute to a "lost" line look that Kenner considered before going with their classic black-and-silver look! This Comic-Con special edition pack will be fans' first chance to get the "lost" packaging, available this fall as variants in the STAR WARS VINTAGE COLLECTION line. In addition, this special collector's pack will be the only place to get an exclusive treat for fans— a 3.75-inch carded JAR JAR BINKS in CARBONITE, which will be hidden in the center of the packaging and can be revealed by raising it through the "CARBONITE CHAMBER" top of the case. The other figures included are a standard JAR JAR BINKS (EPISODE I), CLONE TROOPER LIEUTENANT (EPISODE II), SHOCK TROOPER (EPISODE III), SANDTROOPER (EPISODE IV), PRINCESS LEIA (EPISODE V) AND DARTH VADER (EPISODE VI). [1]
Marvel Legends Special Edition Uncanny X-Force Collector's Pack
Approximate retail price: $49.99 each; Ages: 4 & up; Available through HasbroToyShop.com Booth #3329
Collectors will have a chance to get their ADAMANTIUM claws on these X-FORCE figures in 6" scale for the first time! Featuring ARCHANGEL, WOLVERINE, and PSYLOCKE in costumes from The Fall of Archangel story line, this set comes in a collectable display box with exclusive art by well known comic artist Clayton Crain![1]
Marvel Universe 3.75" Masters of Evil Special Edition 3-Pack
Approximate Retail Price $29.99; Ages 4 & up; Available through HasbroToyShop.com, Booth #3329
Fueled by a raging need for vengeance against CAPTAIN AMERICA, BARON ZEMO hatches a masterful plan. Not foolish enough to face the AVENGERS alone, he strategically forms one of the most powerful groups of villains ever assembled. The MASTERS OF EVIL 3-Pack includes BARON ZEMO, RADIOACTIVE MAN and TIGER SHARK all appearing in 3.75" scale, and united for a singular purpose: destroying EARTH'S MIGHTIEST HEROES. The villains can also be seen fighting against THE AVENGERS in the exclusive art by Joe Quesada on the SDCC exclusive THE AVENGERS HELICARRIER. (sold separately).[1]
Marvel Universe S.H.I.E.L.D. Super Helicarrier
Ages 4 & up; Approximate Retail Price $129.99; Available through HasbroToyShop.com Booth #3329
Get ready to explore Hasbro's biggest SDCC release yet! Featuring an exclusive deco, this S.H.I.E.L.D. SUPER HELICARRIER is over 4 feet long! In addition, it features 9 working projectile launchers for taking out enemies such as the Masters of Evil (sold separately). This special edition vehicle also features exclusive CAPTAIN AMERICA and MARIA HILL 3.75" figures and specially commissioned box artwork by Joe Quesada.[1]
My Little Pony 2012 Special Edition Pony
Approximate Retail Price $19.99; Ages 3 & up; Available through the MY LITTLE PONY Fair & Convention, and the HasbroToyShop.com Booth #3329
The popular special edition MY LITTLE PONY figure, available this year at the MY LITTLE PONY Fair and Convention and San Diego Comic-Con, is sure to be a fan favorite in 2012! Inspired by the animated series "My Little Pony Friendship is Magic," this gray, Pegasus pony features rooted blonde hair and a cluster of bubbles for a cutie mark. Following both conventions, a limited number will be available on HasbroToyShop.com.[1]
G.I. JOE 3.75″ Kim Arashikage Special Edition Figure
Approximate Retail Price: $14.99 each; Ages: 4 & up; Available through HasbroToyShop.com, Booth #3329
The baddest female ninja around will return in the blockbuster film, G.I. Joe: Retaliation, scheduled to hit theaters on March 29th, 2013 in 3D, but first, KIM ARASHIKAGE is making an appearance at San Diego Comic-Con. As the latest G.I. JOE Comic-Con special edition figure, Hasbro will be releasing two movie likeness versions of the fan-favorite ninja. The primary KIM ARASHIKAGE figure is dressed in her classic red ninja suit with a double bladed bisento, while the unmasked variant is wearing a white costume and wielding a kusarigama.[1]
G.I. JOE H.I.S.S. Tank Vehicle with Shockwave Deco and 3.75″ Destro & B.A.T. Special Edition Pack
Approximate Retail Price: $59.99 each; Ages: 4 & up; Available through HasbroToyShop.com, Booth #3329
After the extreme popularity of last year's G.I. JOE and TRANSFORMERS crossover San Diego Comic-Con special edition, Hasbro has done it again! In 2012, the iconic G.I. JOE vehicle, the H.I.S.S. TANK, will get a DECEPTICON SHOCKWAVE make-over, including a G1 SHOCKWAVE blaster attachment. The set comes with a 3.75-inch DESTRO action figure with special edition DECEPTICON deco, a 3.75-inch COBRA B.A.T. figure with special edition CONSTUCTICON deco. The set also comes with several ENERGON cubes on a cart, a briefcase full of money, and a small boom box with 3 cassette tapes- better known to TRANSFORMERS fans as the classic alt-mode of DECEPTICON spy SOUNDWAVE along with RATBAT, LASERBEAK, and RAVAGE. Yo, Joe AND Roll Out![1]
Transformers Prime Terrorcon Cliffjumper
Approximate Retail Price: $24.99; Ages 5 & up; Available through HasbroToyShop.com #3329
The DARK ENERGON will be flowing through San Diego this year with the release of this special edition Deluxe scale TERRORCON CLIFFJUMPER figure. Featuring a special "TRANSFORMERS zombie" deco, this figure looks just like he did in the Darkness Rising storyline of Hasbro Studios TRANSFORMERS PRIME animated series. This figure comes with a DARK ENERGON shard and a DARK ENERGON chest attachment in a special edition clam shell packaging designed to look like his head.[1]
Transformers Deluxe Bruticus Combiner
Approximate retail price: $99.99 each; Ages: 5 & up; Available through HasbroToyShop.com Booth #3329
The TRANSFORMERS DELUXE BRUTICUS COMBINER SDCC Special Edition set features the fearsome DECEPTICON, BRUTICUS in a special CYBERTRONIAN deco as seen in the eagerly anticipated video game TRANSFORMERS: FALL OF CYBERTRON from Activision. BRUTICUS is formed when all five deluxe scale 'combiner' action figures in the set link together. The COMBATICONS characters BLAST OFF, VORTEX, DECEPTICON BRAWL, SWINDLE, and ONSLAUGHT each have three modes: robot, vehicle and a third 'combiner' mode to link together. This Special Edition also includes removable packaging resembling a silhouette of the DECEPTICON logo that becomes a display case for the BRUTICUS figure.[1]
Jem and the Holograms Special Edition Doll: Hollywood Jem
Integrity Toys/Ages 14 and up/Approximate Retail Price $125/Available through HasbroToyShop.com Booth #3329
Under license from Hasbro, fans will have a truly outrageous time when they see this Jem and the Holograms Special Edition doll: HOLLYWOOD JEM! The fully articulated HOLLYWOOD JEM doll stands 12 inches tall and features rooted pink hair and stunning long eyelashes. Looking fabulously fashionable in capri pants, black high-heel pumps, and a shiny gold-toned jacket (complete with shoulder pads!), HOLLYWOOD JEM is ready to rock the stage. As the leader of JEM AND THE HOLOGRAMS, the HOLLYWOOD JEM doll comes complete with a microphone and silver chromed microphone stand. When the tour is complete, fans can display their doll proudly using the included doll stand. Each HOLLYWOOD JEM Special Edition Doll comes with a certificate of authenticity and a souvenir postcard with artwork from the original JEM AND THE HOLOGRAMS line. Following the convention, a limited number will be available on HasbroToyShop.com.[1]
Toys"R"Us - Entertainment Earth Booth #2343
Adventure Time Finn and Fionna figure set from Jazwares, Inc.
Finn and Fionna are off on a new adventure, and this time they're taking on Comic-Con International in San Diego! These two-inch versions of the fan-favorite characters come with miniature Comic-Con "Talent" badges, granting access to the show. Afterwards, Finn and Fionna can travel home with Comic-Con goers for $15.[2]
Just Us League Of Stupid Heroes Batman and Robin Two-Pack from DC Direct
Just in time for MAD Magazine's 60th anniversary, comes Alfred E. Neuman's unique take on Batman and Robin. Striking fear into the hearts of criminals everywhere – or at least the ones that scare easily – evildoers everywhere won't know how to handle MAD's version of the Dynamic Duo. These Caped Crusaders can strike mirth in the heart of collector's homes for $50.[2]
Classic Masked Predator Cloaked Action Figure from NECA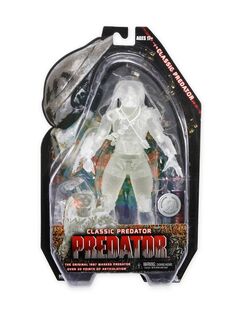 Stalking out of the classic 1987 film, this version of the Classic Masked Predator, cast in translucent plastic, is nearly invisible in his stealth form. Standing at 8-inches tall, collectors can bring this Predator on new hunts with 20 points of articulation, extendable wrist blades and a removable backpack. The Predator can stealthily travel to any location for $20.[2]
Regular Show Mordecai action figure from Jazwares, Inc.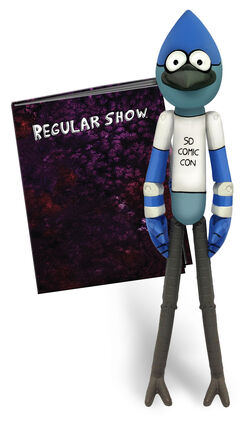 Decked out to rock with his favorite back in a "Fist Pump" t-shirt, Mordecai is taking a well deserved break from his "hard work" as a park groundskeeper. Fans can take Mordecai home and flip through his exclusive sketch book, filled with behind the scenes drawings from the creative team behind "Regular Show" for $15.[2]
Winx Club Princess Bloom doll from JAKKS Pacific
Once an ordinary girl, Bloom lived a normal life in the city of Gardenia until she met Stella, a princess from the planet Solaria. Coming to Stella's aid, Bloom discovered her magical powers and joined Alfea, the best fairy school in all the realms. Now Winx Club fans can take home this 11.5-inch articulated version of Bloom with a sparkling torso, as well as a shimmery blue and black outfit, which perfectly complements her tinted, glitter and gem Belivix wings. Princess Bloom is ready to flutter home with conventioneers for $30.[2]
X-Factor 3 ¾-inch Collector Pack from Hasbro®
After graduating from Xavier's School for Gifted Youngsters, and spurred by the miraculous resurrection of Jean Grey, the original X-Men team formed a new super group of mutants called X-Factor. Now, fan can collect 3 ¾-inch versions of Cyclops, Marvel Girl, Angel and Iceman – along with two of the team's most influential villains Apocalypse and Mr. Sinister – in a specially designed package featuring artwork from the 1986 issue of X-Factor #1. Fans can use their telekinesis to grab this item for $50 at Comic-Con International in San Diego before it becomes available at Toys"R"Us stores nationwide in August.[2]
References