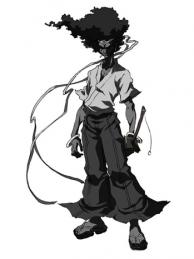 Afro-Samurai, the cult anime/manga is going Hollywood! This popular anime, currently being voiced by famous actor Samuel L. Jackson in its American adaptations will be going live-action! At Comic-Con, Indomnia Group in partnership with Jackson and Gonzo Studios, the Japanese studio behind Afro Samurai, announced that the anime would be ready for shooting in 2012 after wrapping up casting at the end of this year!
Afro-Samurai is a blend of Eastern and Western culture (as the title suggests) and features famous musical talent such as the Wu-Tang Clan. The movie version also won an Emmy in 2009, making it the first anime ever to win an Emmy.
Do you think Afro Samurai could go live-action successfully? Or is it better in animated form?
Source