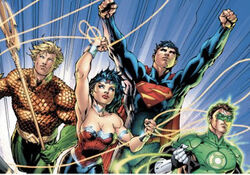 Comic-Con is usually a time of celebration for most comics/graphic novel fans. With panels of illustrious comic writers and an explosion of movies based on our favorite superheroes, Comic-Con offers opportunities for us to rub shoulders with the very people who created these amazing worlds. Unless they threaten to destroy it altogether!
You may have heard that DC Comics recently announced that they will be rebooting much of its comics universe, including those of their most iconic names like Superman, Batman, and Wonder Woman! Decades of plots, characters, and retcons will be lost as the stories revert back to...issue #1!? As unfathomable as that sounds, DC will start from scratch this September and canon will cease to be canon...
Incredibly upset over these proposed changes, an unknown number of protestors will come to Comic-Con not to support DC Comics, but to protest against them on July 23 for an hour-long march. The protestors are well-equipped with the might of social media: Facebook.
What do you think, DC fans? Will you be joining the march against injustice and the ultimate reboot? Tell us what you think!
Source