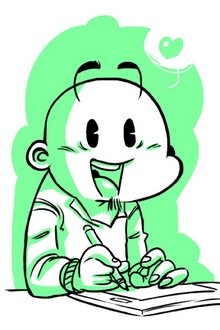 Yves "Balak" Bigerel
Writer/Artist, Lord of Burger
Born in 1979 in France, Yves Bigerel graduated from the Gobelins Animation School. He currently lives in Paris, where he works as a storyboard artist and 2D animator for various TV shows, video clips, and commercials and on the French comic book Lord of Burger (Glenat Publishing). His interest for digital storyboarding and sequential storytelling led him to share some thoughts and demonstrations on what "digital comics" could be. He's working on various projects exploring this approach, doing master classes and public round tables, and focusing on new tools and narrative possibilities.